When Foul Odors Linger After A Fire In Your Nashua Office Building, Call The Professionals At SERVPRO!
2/25/2019 (Permalink)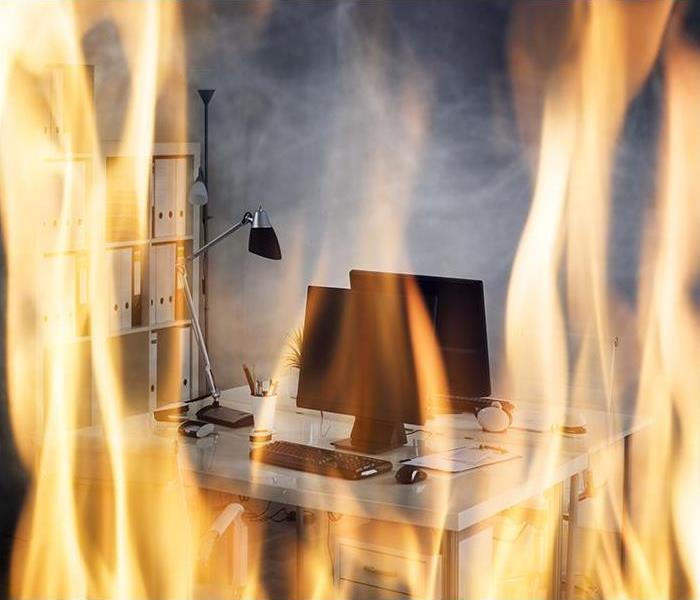 SERVPRO of Nashua is thorough when cleaning your office building in Nashua or the surround areas after a fire has occurred.
Restoration Of Commercial Fire Odors In Your Nashua Office Building
A fire in your Nashua office building can be devastating, even if the fire was small. It can lead to the temporary shutdown of your business, besides costly repairs and restoration. Of course, preventing a fire from happening in the first place is the best thing, but if one does occur, you need to move fast to get help, so the settled smoke and soot do not do additional damage.

Commercial fire odors in your Nashua business are also an issue after a fire, which is even more reason to hire a professional remediation specialist, like SERVPRO. Our staff is trained and equipped to handle all damages from fire including the damage from the flames themselves, water damage, from firefighting efforts, and smoke odors, which can travel through areas that weren't even affected by the fire.

One of the most critical parts of fire restoration is smoke odor elimination. It is essential that we act immediately, so get in touch with us as soon as the fire is out. Smoke can cling to upholstered furniture and carpeting if they are not adequately deodorized. SERVPRO techs' deodorization procedures break up the smoke molecules to eliminate the lingering smell.

Smoke can also enter and remain in between the walls. Smoke odor can reoccur if we do not correctly remove it in these areas. Depending on the amount of smoke damage, the ceilings and walls might need to be cleaned and repainted.

Smoke and odor particles are also airborne after the fire, and we use multiple treatments during the restoration process with specialty equipment to clean the air. Air scrubbers which are equipped with HEPA filtration systems help to remove the odor particles from the air, which enhances the efficiency of cleaning the air to make it safe again for you and your employees. Microthermal fogging uses a strong deodorizer so we can neutralize odor which permeates the air that was affected by smoke.

SERVPRO of Nashua is thorough when cleaning your office building in Nashua or the surround areas after a fire has occurred. We understand the importance of getting your building wholly restored to its previous condition, so call us right away at (603) 889-2311 once the fire is out.
Click here for more about Nashua.